Grounds and Gardens of Remembrance
Our Grounds and Gardens of Remembrance are open 365 days a year via footpath access. Vehicular access is available from 8am to 7pm currently. Please note that whilst dogs are permitted in the grounds, they must be kept on a lead and owners must clean up after their dogs.
Services
Our services are held at 60-minute intervals with the earliest booking at 9am and the latest at 4pm from Monday to Friday. Ceremonies are available to book on Saturdays from 9am until 11am. Requests for ceremonies outside these hours will be considered on a case-by-case basis.
Well behaved dogs on a lead are welcome at our services.
Our office is open following our opening hours from 8.30am to 5pm Monday to Friday. It is closed on Saturdays, Sundays and public holidays.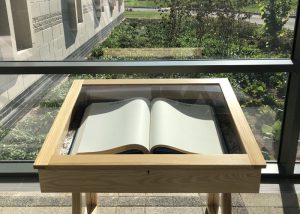 The Book of Remembrance

The Book of Remembrance room is open Monday to Friday from 9am to 5pm. If you would like to view a page outside these hours – especially over holiday periods – please contact us on 01323 443400 to make arrangements.